Providing top quality electrical inspections in Melbourne
When it comes to electrical inspections across the Melbourne CBD and central suburbs, 1st Call Electrical are the local team you need. Our Master Electricians have extensive knowledge and experience when it comes to electrical inspections of all kinds, allowing us to provide a comprehensive service to suit a variety of customer needs. Our electrical inspectors are prompt, efficient and diligent, ensuring a properly completed inspection every time. Give us a call today to find out how we can help!
Your local Melbourne electrician
What is an electrical inspection?
An electrical inspection is a process completed by an appropriately qualified electrician to check for any electrical safety concerns throughout a property. This can include overloaded circuits, faulty smoke alarms and potential fire hazards, as well as whether your circuitry meets the relevant regulations. An electrician will then generally provide a report with any concerns and how they are to be fixed.
Professional residential and commercial electrical inspections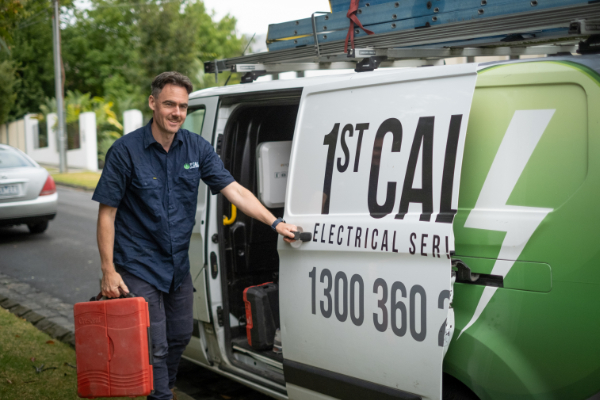 1st Call Electrical complete electrical inspections for both households and businesses, as electrical safety is always our first priority. We want to ensure every property is safe, no matter its occupants, and are both thorough and meticulous in every inspection we complete. Ensuring safe, functional and environmentally responsible living and working spaces is our mission statement, so it is something we strongly believe in!
Qualified Melbourne electrical inspectors
The inspection team at 1st Call Electrical are fully qualified Master Electricians, offering you peace of mind that you are dealing with industry professionals. All our electricians complete regular training, to ensure that we remain up-to-date with all current industry standards and changes. This allows us to provide the best options and service possible to our customers all year round, no matter the size or type of inspection.
When do you need to get an electrical inspection in Melbourne?
There are a range of circumstances in which 1st Call Electrical recommend that you arrange an electrical inspection for your home or business:
If your property is over 25 years old (or you don't know how old it is).

You are having regular problems with your electricity, such as tripped safety switches or power outages.

If the wiring in your home is old (or you don't know how old it is).

If any DIY electrical work has been completed in your home.

If you believe any of your home wiring has been damaged during a storm.

If you have any concerns at all, big or small.

Regularly as part of your electrical maintenance.
Melbourne landlords are also required to have an electrical inspection done every 2 years on their properties to stay compliant with the Residential Tenancies Act 1997. Our team offer compliant and comprehensive landlord electrical safety checks to keep your properties safe.
It is also strongly suggested that you organise an electrical inspection when you are in the process of purchasing a new home, to identify any dangerous electrical situations. This should be completed before the contract goes unconditional, to ensure that any necessary negotiations that may result from any faults found (e.g. a lower price or electrical faults to be fixed before settlement) be agreed to. Speak to our electricians if you would like some more assistance.
Electrical inspections completed by Melbourne electricians
If you would like an electrical inspection completed in your home or workplace, or would like to speak to one of our friendly team members regarding any other electrical services you may require, give 1st Call Electrical a call on 1300 360 215 or complete an online job booking form today. Our electricians are some of the best in the business, so get in contact now!
Frequently Asked Questions about electricians
Want to know a little more about lighting and types of lights?
What is a Master Electrician?
Converting from Gas to Electric