Emergency electrical services in Melbourne
If you are in need of an emergency electrician who can promptly attend your home or workplace during business hours, get in contact with 1st Call Electrical. We assist homeowners, businesses, landlords, body corporates, and agents with all their urgent electrical needs, no matter the job shape, size or type. We can help with power points, switchboards, aircon, safety switches, and any other electrical emergency that you may encounter.
For urgent electrical needs call our emergency electrician now at
For non urgent issues book an electrician using the booking form below.
*Please note, our electrical team only attend to electrical emergencies during business hours and do not offer after hours services.
Book An Electrician Today
What can our emergency electricians help with?
Our emergency electricians can assist with a range of electrical emergencies including:
Power surge concerns
Tripping of fuses
Electrical faults
Power issues
Emergency lighting
Power point issues including sparking, heat damage and fire
Electrical safety concerns
This list is not exhaustive, so if the service you are looking for is not listed above still give us a call at 1300 360 215 and we can discuss your emergency electrical needs.
*Please note, our electrical team only attend to electrical emergencies during business hours and do not offer after hours services.
Emergency electrical works during business hours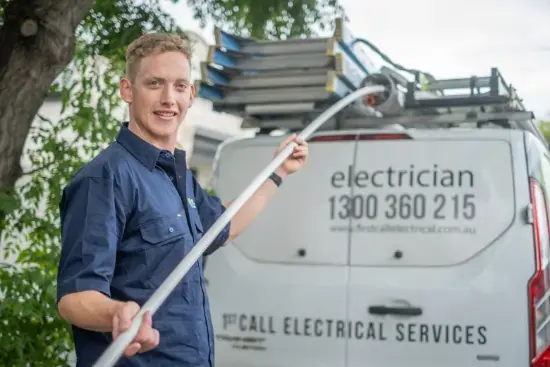 1st Call Electrical are one of the most trusted electricians in the Melbourne CBD and inner suburbs in relation to electrical emergencies. Our fully qualified and experienced electrical team will attend the job as soon as possible and provide practical solutions to swiftly address the situation. We know that urgent electrical matters can be both dangerous and disruptive, so we work tirelessly to ensure that the issue is contained as quickly as possible and that our customers are out of harm's way.
Fast-response electricians
The electricians at 1st Call Electrical understand the importance of quick actions when it comes to electrical emergencies, so we always arrive as soon as possible to assist with any urgent matters. Your safety and the safety of those around you is of utmost importance, so we act quickly, effectively and efficiently to complete any emergency electrical works.
Great reasons to choose 1st Call Electrical for your urgent electrical needs in Melbourne
We are prompt and arrive when we say we will.
We will treat your premises with respect and care.
We work in a tidy and orderly manner and always clean up when finished.
We believe that a professional approach begets a professional outcome.
We communicate with our clients clearly and concisely. It is highly important to us that you understand all aspects of your project from our arrival time to the outcome and that you are able to communicate any queries or concerns with us.
We love our work and want our craftsmanship to be the best.

The local Melbourne emergency electrician you can rely on
If you have an electrical emergency in the Melbourne CBD or the inner suburbs, give the 1st Call Electrical team a call on 1300 360 215 and we can quickly attend to your urgent electrical matter during business hours.
Frequently Asked Questions about electricians
Should you have smart lights installed?
Do landlords need to do electrical safety checks?
EV Charging - things to consider