Routine RCD test services Melbourne
Our team of experienced commercial electricians offer RCD testing throughout Melbourne CBD and central suburbs. Scheduling routine testing ensures your business remains on top of compliance requirements and keeps your staff and workers safe from electrical accidents.
Reliable RCD test and tag
Electrical safety for businesses
Using an RCD is just one of the methods of reducing electrical accidents in the workplace. Regular test and tag of electrical equipment, leads, and tools is also essential to ensure the best protection of staff and workers.
RCDs are either fitted or portable and both need to be tested regularly to ensure they are working correctly and they activate in the recommended time to prevent serious electric shock.
Work Safe regulations in Victoria set when RCD testing is needed to be carried out depending on your business, the risk associated with the work being carried out, and the conditions the electrical equipment are operated in. For instance a stationary computer in an office must have the RCD tested every 6 months, however, construction equipment must be tested every month.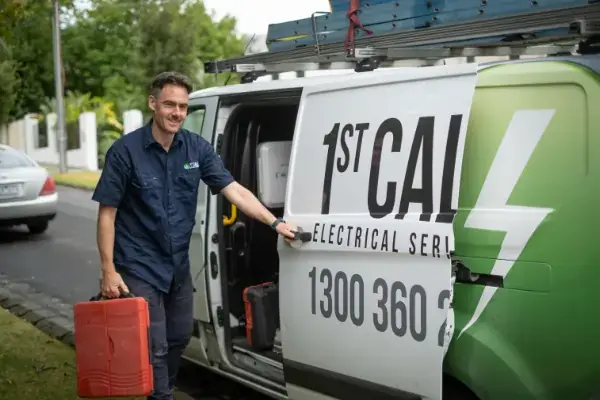 Your local RCD specialists
1st Call Electrical can take care of all your RCD testing and compliance needs, contact our commercial electricians on 1300 016 671 or complete our booking request form today.
Frequently Asked Questions about commercial electrician
What are the different light bulb types?
Want to know a little more about lighting and types of lights?
What's the difference between a safety switch and a circuit breaker?