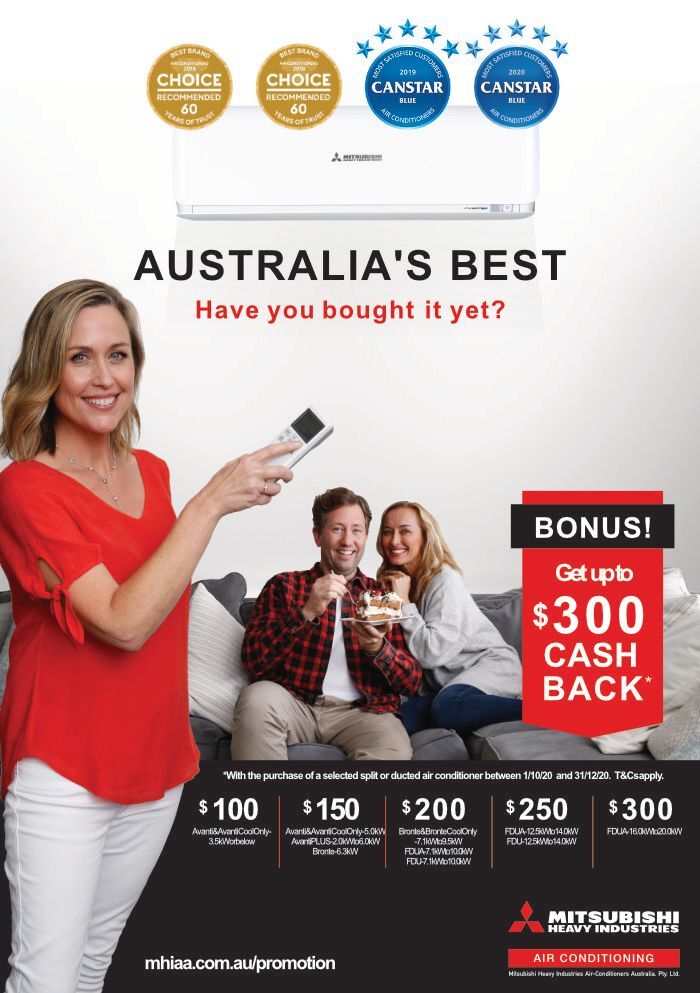 MHIAA 2020 Cashback Promotion
Mitsubishi Heavy Industries Air Conditioning Australia has just released their amazing 2020 Cashback Promotion. Customers can receive up to $300 cashback by purchasing an eligible MHIAA split system or ducted air conditioner between 1 October to 31 December 2020.
Eligible air conditioners
Eligible MHIAA air conditioners cover a huge range of styles and sizes from small cool only wall mounted split systems to whole home reverse cycle ducted air conditioning units. Which means you're sure to find the perfect climate control system for your needs.
MHIAA has just been presented with the Choice Best Brand Air Conditioners award for the third year in a row showcasing the reliable top quality air conditioning products and great customer service this great brand offers. The company was also awarded the Canstar Blue Most Satisfied Customers accolade for 2019 and 2020, further proving MHIAAs high standing in the industry.
Not sure which MHIAA air conditioner is right for the space you wish to heat and cool? The 1st Call air conditioner specialists can provide expert advice on choosing the perfect solution for your home or business as well as carry out the complete air conditioner installation service.
For more information on this great air conditioning deal as well as the terms and conditions visit the MHIAA website here - mhiaa.com.au