Complete split system aircon cleaning Melbourne
Do you or your family frequently suffer from respiratory problems? Did you know that dust, mould, mildew, and other allergens can build up out of sight inside your air conditioning system? We can help. Our air conditioning specialists provide routine professional deep cleaning to ensure your split system air conditioner is circulating clean fresh, efficiently filtered air throughout your home or workplace.
1st Call Electrical offers a comprehensive deep air conditioning cleaning for residential and commercial split system aircon's through the central Melbourne areas. Book your aircon cleaning service today.
Air Conditioning Booking
What Service Are You Seeking?
Air conditioner cleaning service
Our Deep Clean air conditioner service gets to all the areas of the split system unit that you can't access. In fact, many manufacturers state that any work carried out on your aircon by anyone other than a licenced air conditioner professional risks voiding the warranty. This includes cleaning parts other than the removable filter and outer casing of the unit.
Our team provide cleaning for all brands of split system air conditioners
The Aircon Deep Clean service takes about 1.5 - 2 hours and uses unscented cleaners to avoid overwhelming the room with strong chemical odours.
Our aircon technicians strip the cover of the internal unit and use a food-safe chemical cleaner to thoroughly scrub and clean the:
fan coil
fan blade
and drain tray components.
We also give the external cover a really good clean inside and out.
Once the deep clean is completed the finished unit looks like new, has a neutral odour, and is free of mould, mildew, dust and other allergens.
How much does an air conditioner clean cost?
We can clean a wall mounted, split system air conditioner for $396 inc GST.
Air Conditioning Clean $396
Wall Mounted, Split Air Conditioner
How often does my air conditioning system need to be cleaned?
We recommend a yearly professional aircon clean for cool only models, usually at the beginning of summer. For reverse cycle split system units we urge customers to carry out a twice-yearly deep clean, once at the start of summer and again before the unit is used to heat your home through winter.
Your local air conditioner cleaning specialists in Melbourne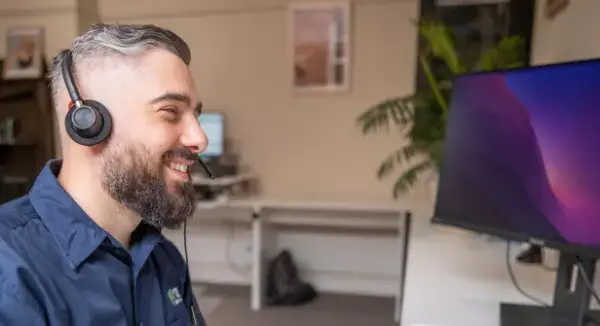 Protect your family and workers with a regular professional air conditioner cleaning service from 1st Call Electrical Services. Schedule your aircon clean by contacting our team at 1300 016 671 or complete the quick online air conditioner cleaning request form above today.
Frequently Asked Questions about air conditioning
When to repair & when to replace air conditioners
Why your air conditioner isn't working on hot days
How much does it cost to get a split system installed?