NBN home network cabling Melbourne
Disclaimer: We Do Not work with lead in NBN cabling we only work with NBN cabling from the modem.
1st Call Electrical Services can take care of your business and in-home NBN cable installation and repairs throughout Melbourne CBD and central suburbs.
The National Broadband Network (NBN) covers most of central Melbourne with most homes and businesses connected to the NBN in these areas already. However, being connected and getting great coverage throughout your property are two very different things. Our experienced electricians offer expert advice on adding to your business or home network cabling to provide an internet service which meets your needs. Or if you are building a new home our team can work with your builder to make sure the network installed will cope with future requirements.
Your local NBN cabling specialists
NBN installation
Your home phone and internet service requirements will guide where the NBN cable, phone and wall sockets are positioned in your home. Ensuring that all areas of your home receive the best coverage with the fastest internet speed possible is our top priority.
NBN cabling in a new home build
Points to consider when planning your new home NBN cabling:
Computer locations - eg home office, study areas
Smart home integrations requirements - smart appliances, etc
Home alarm systems and security requirements
Television streaming and gaming needs - lounge, media room, bedrooms
Phone line locations - kitchen, home office, bedrooms
Monitored smoke alarm or fire alarm systems
Medical alarm or emergency call buttons
Liaise with your builder, the NBN Co, and your electrician to decide on the ideal location of the NBN supplied equipment and our electricians can take care of the rest.
It's important to ensure all this electrical and internet equipment also has access to adequate power points as well.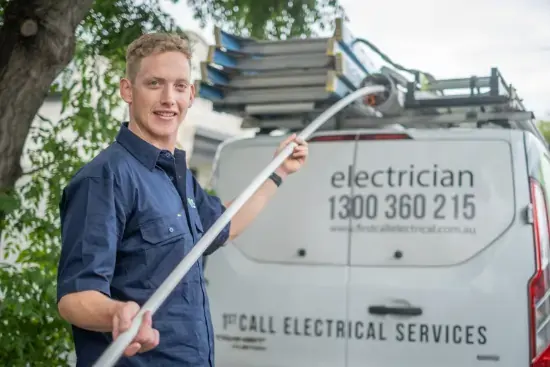 Renovations retrofitting NBN cable
Our electricians can retrofit NBN cabling in existing homes and businesses as well as during renovations. Creating a reliable internet service throughout your building is essential for modern living.
Tip - Locating your Wifi and NBN systems in a central position away from obstacles likely to interfere with the signal such as thick walls, metal objects (eg fridge door), the microwave, TV or hot water system will provide the best possible coverage.
NBN Electrician Melbourne
For the very best in NBN cabling services across central Melbourne, contact 1st Call Electrical Services NBN electricians on 1300 016 671 or complete our quick online booking request today.
Frequently Asked Questions about data cabling
How to connect to the NBN