Complete emergency lighting service Melbourne
Emergency lighting systems ensure the occupants in a building can safely evacuate in the event of a power outage, fire, or emergency. Our experienced electrical offer a comprehensive emergency lighting testing service throughout central Melbourne and surrounding suburbs to ensure the safety and compliance of your building.
Professional emergency systems testing Melbourne
Testing and maintenance
1st Call Electrical Services take the safety of your building's occupants very seriously. Our electricians offer a comprehensive emergency lighting testing and maintenance service to provide safe and compliant emergency systems throughout your building.
6 monthly emergency lighting test includes:
visual check of lights and exit signs for mains operation
90-minute manual battery discharge test
check all lights and fire exit signs to ensure correct functioning
restore system and recharge batteries in each fitting
visual check of lights and signs where automatic discharge systems apply at the controller or indicator panel
full log book completion
repair or replacement of failed components such as batteries, bulbs, and diffusers
review systems for compliance with current Australian Standards
review lights and signs for correct positioning and relocate if required.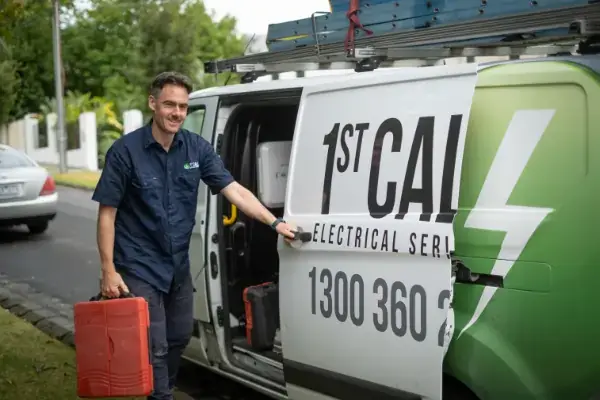 12 monthly emergency lighting test includes:
a complete test as per 6 monthly testing
clean and inspect all fittings and reflective surfaces to ensure maximum illumination
We recommend upgrading light bulbs in emergency light and fire exit signs to long-lasting, energy efficient LED bulbs. Our team will ensure all replacement parts comply with AS2293.3 and provide the longest possible maintenance free intervals.
New emergency lighting installations
If you're building or renovating 1st Call Electrical Services offer the installation of the emergency lighting, exit signs, battery backup systems, and interconnected wiring systems ensuring all aspects comply with the most relevant Australian Standards.
Emergency light test Melbourne
For the most comprehensive and thorough emergency light test throughout Melbourne CBD and inner suburbs contact 1st Call Electrical Services on 1300 016 671 or complete our service request form today
Frequently Asked Questions about commercial electrician
Converting from Gas to Electric
What type of smoke alarm do you need?
Want to know a little more about lighting and types of lights?